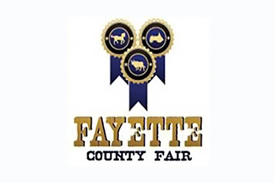 Fayette County Fair
Dunbar, Pa
July 27 - August 5, 2023
Fayette County Fair
Midway is Located At
132 Pechin Rd
Dunbar, PA 15431
The midway opens on
Thursday, July 28: 6:00pm
Monday thru Friday:3:00pm
Saturday and Sunday: 1:00pm
Please Note: Closing time will vary based out crowd size and weather conditions. Specific ride may be closed for maintenance or due to weather conditions
Pre-Sale Gate Admisson (Includes Unlimited Rides) ...Coming Soon
Ride list to be posted soon!
Please Note: This ride list and number of tickets to ride each ride subject to change at any time without notice.
Height Restrictions: Wristbands are not recommended for children under 36" as there are a limited amount of rides they can safely ride. Parents with children under 48" should check the height requirements before purchasing to make an informed decision whether wristbands are the best value for their children.