The FunTagg DigitalTicketing System is fast, easy and convenient to use! It reduces contact between employees and guests and keeps lines to a minimum at the kiosk centers.

Visit one of our state of the art FunTagg Kiosks and load credits onto a card. If you purchase a wristband, bring your receipt to our convenient redemption center to receive your band.
Purchase Tickets and Wristbands
At a Ticketing Kiosks select on tablet how many unlimited ride wristbands or credits you would like to purchase.
If credits are purchased a card with be dispences wirth the number or credits purchases on it
If a unlimited ride wristband is purchased, a voucher will print with a QR code on it. Once you have your voucher, you can take it over to our redemtion center and one our ticketing ambasadors with help you redem the voucher for a wristband
When you need more credits on you card, all you need to do it return to any kiosk, select "recharge card" and insert your card into the slot above the FunTagg Logo.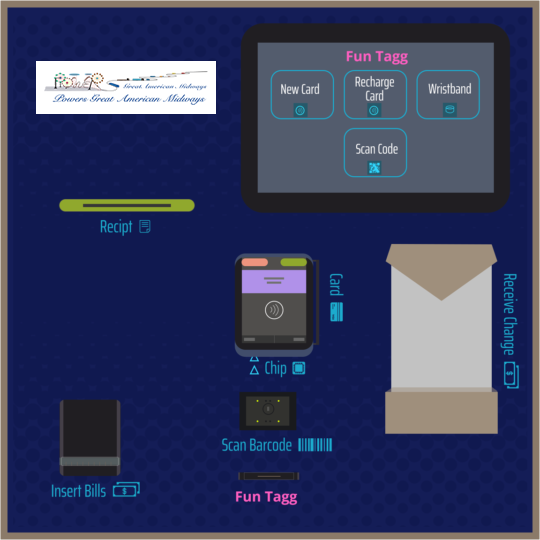 On-site purchases are subject to additional service fees.
All Kiosks accept Cash, Credit Cards, Debit Cards, Apple Pay, Samsung Pay, Google Pay, Visa, Mastercard, American Express, Discover