Powers Great American Midways is one of the most highly respected carnival companies in the industry. Since 1980, they have traveled exclusively on the east coast of the United States. They have successfully secured many impressive locations performing at major state fairs county fairs, festivals, and other celebrations.We will provide a midway for almost any type of event, whether it be a State Fair, County Fair, Fireman's Celebrations, Rentals, or movie set. We also rent individual rides, games, and food.
Rides:
We provide high tech, state-of-the-art, modern rides for any size event. There is a complete balanced line up of spectacular, major and kiddie rides with all lights flashing giving your event that much needed sparkle. The average age of a Powers Great American Midways ride is 9 years old, arguably the youngest ride lineup on the East coast. We take great pride in safety, cleanliness and the over all appearance of our rides, food concessions and games.
Food:
We offer clean and modern food concessions. They are operated by our courteous and friendly staff. Guests always appreciate our food court concept with attractive landscaping, seating areas, hand sanitizing stations, and well maintained areas.
Each week we pass rigorous inspections by the various county health departments making the cleanliness of our food attractions a priority.
The integrity of our policies is carried through to our food concessions where we do our best to supply top quality products to our customers.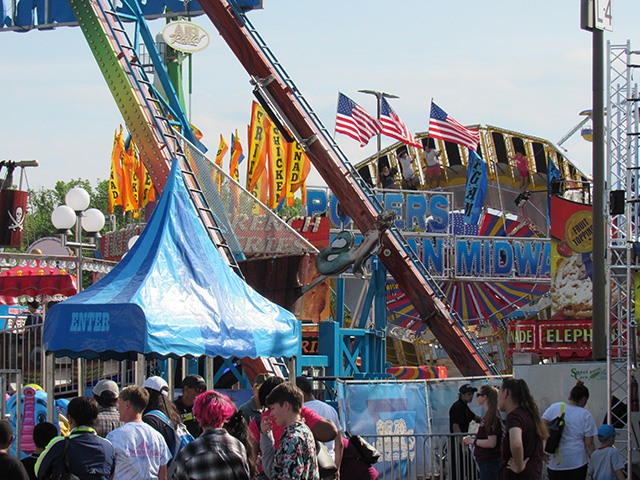 Games:
We provide the finest in state-of-the-art skill games. Guests that play, receive merchandise value for every dollar that is spent. Winning and taking home prizes help them remember their extraordinary experience even after they have gone home. Some of our game owners have been with us for several years, but we are always looking for new and interesting games to add to the overall experience of the event.
Safety:
We have licensed Pennsylvania inspectors as well as NAARSO (National Association of Amusement Ride Safety Officials) inspectors, all of whom are employed full time. These inspectors report to a full time safety coordinator who oversees the safety of the midway. Not only do our ride operators look over and approve our rides every day for safety but also nationally certified safety inspectors inspect all aspects of the PGAM midway to insure our guests have a safe experience.
Additionally we have many certified technicians including welders, mechanics, and a ride computer technician. Our staff as a whole is a unified team with the same goals, which maintain the upmost standards of today's carnival industry.
POWERS GREAT AMERICAN MIDWAYS has a stellar safety record. At present we operate in New York, Pennsylvania, Virginia,Connecticut, Maryland, and North Carolina who all have high safety requirements. POWERS GREAT AMERICAN MIDWAYS conforms to all.
Refurbishing:
We have a full time refurbishing facility runs year round revitalizing all our equipment to its original beauty and smooth running functionality allowing us to rotate our equipment through out the season.
North Carolina Department of Labor has used the facility as a training facility for training ride inspection personnel.
In this state of the art facility we meet all of the regulations required in our current environment.
Suport Equipment:
Generators, Lights on the midway, seating, hand washing, port-o john's, baby changing , comfort stations with benches and canopies that will allow the guests to relax while attending the event. This enables the guests to rest in comfort during their visit.
History:
Since its inception in 1980 as a regional midway provider in Western New York with about a dozen rides, Amusements of Rochester serviced mainly churches and fire department fundraisers . Always with safety, uniformity, and cleanliness being intricate part of our core values.
As the company and its positive reputation, grew so did the number of states that we serviced. Eventually we became Powers Great American Midways whose routing today includes some of the largest festivals, county and state fairs in the country. Still today our values and strong beliefs have not changed. Those values provide a clean safe family friendly rides, delicious foods, and fun, easily winnable games.
Combined with a great group of family and Powers team members, we strive everyday to provide the most progressive midway in the United States, while still maintaining that nostalgic feel of the grand carousel and the background smell of fresh popcorn.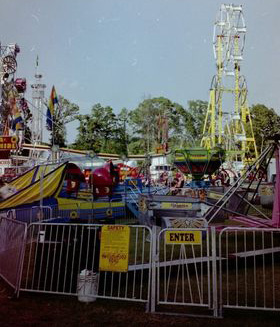 Associations we are affiliated with:
Outdoor Amusement Business Association, International Association of Fairs and Expositions, Showmen's League of America, New York State Show People's Association, Pennsylvania State Showmen's Association, International Independent Showmen's Association, National Association of Amusement Ride Safety Officials , National Independent Concessionaires Association, Inc., Pennsylvania State Association of County Fairs, North Carolina Association of Agricultural Fairs, Virginia Association of Fairs, New York State Association of Agricultural Fairs.
Equipment Rentals:
Rides, Games, Food Trailers, Generators, Wire For Movies such as:

"Dawson Creek" (TV series)


"Boys" with Wynona Rider


"Dao" with Delta Burke (movie made for TV)


"The "Notebook" with James Garner
So please let our family entertain yours. Come visit Powers Great American Midways for the Fun, and Stay for the Memories!